Kirby's Flooring is a locally owned family business that has been providing our community with quality workmanship and guaranteed installations for more than 30 years.
Flooring Products – Carpet
How Hard Are You On Your Carpet?
Mohawk's SmartStrand Carpet Wins Zoo Challenge Proving Durability and Resiliency with Ten Zoo Animals
After taking abuse from six African elephants, three camels and a black rhino, SmartStrand® with DuPont™ Sorona® (SmartStrand) carpet continues to prove victorious with its durability and resiliency against the toughest competitors. For more than two weeks, a combined total of 50,000 pounds of wild animals have done their absolute worst to Mohawk's SmartStrand. This revolutionary carpet stood up to everything the animals could dish out: romping around, the constant tracking in of mud and dirt and doing what they do best on the SmartStrand.  With SmartStrand's unique molecular structure, the carpet performs similar to a spring, making the fiber more resilient, crush resistant and durable. The technology engineered in the carpet is guaranteed to provide amazing performance results.  Click the link for more information about Mowhak's Zoo Challenge.
Types of Carpet
Cut Pile
Still one of today's most popular constructions, cut pile carpets achieve their durability through the type of fiber used, density of tufts and the amount of twist in the yarn.  Highly twisted yarn will hold its shape longer, making it a smart choice for high-traffic areas.
Textured Plush – Most decoratively versatile.  Textured surfaces help hide footprints and vacuum marks.
Saxony – Refined surface. Works well with traditional interiors.  Most suitable for living and dining rooms.
Friezé – Forms a "curly" textured surface because yarns are extremely twisted.
Plush (Velvet) – has a dense luxurious feel.  Shows footprints and vacuum marks easily so are best for low traffic areas and formal rooms.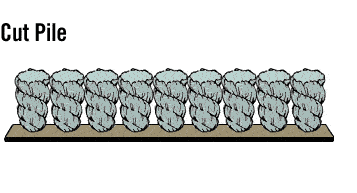 Level Loop Pile
Level loop pile:  Here loops are the same height, creating an informal look.  This style generally lasts a long time in high-traffic areas.  Many of today's popular Berber styles are level loop styles with flecks of a darker color on a lighter background.  This is a good choice for contemporary to cottage furnishings.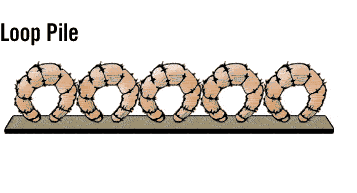 Multi-Level Loop Pile
Multi-level loop pile:  This style usually has two to three different loop heights to create pattern effects, providing good durability and a more casual look.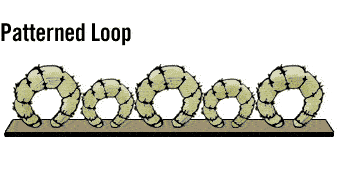 Cut-Loop Pile
Cut-loop pile:  This carpet style combines cut and looped yarns.  It provides variety of surface textures, including sculptured effects of squares, chevrons and swirls. The multicolor effects hide soil and stains.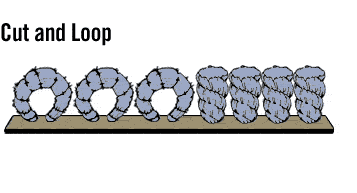 Facts on Carpet Fibers
Nylon
Is considered to be suitable for all types of traffic. Solution dyed nylon provides excellent color fastness and increases stain clean ability and is suitable for a commercial application.
Olefin (polypropylene)
Olefin is resistant to moisture, making it the primary fiber used in indoor/outdoor carpet. Olefin features include its inherent and permanent resistance to water-based stains, its colorfastness and resistance to static electricity
Polyester
Polyester's features include good abrasion resistance, fade resistance, and clean ability. Features also include its luxurious softness and permanent stain resistance, and ability to produce bright colors.
Triexta
Triexta's features include its luxurious soft feel, excellent colorfastness and bright colors, inherent and permanent stain resistance. Other features include durability, resistance to fading, clean ability, texture retention and resiliency.
Wool
Wool is a natural fiber known for its luxury and performance. Its features include softness, high bulk, color variety and flame retardant characteristics.
Smartstrand
SmartStrand's key fibre ingredient is Bio-PDO™, produced from corn sugar. By utilizing this central ingredient, 37% of SmartStrand can be made from renewable resources instead of the more limited petrochemical-based ingredients that are used in most other nylon carpets. Extreme fibre durability and built in stain resistance.